A Lesson in Civil Rights: Rabbi Perry Nussbaum's role in 1960s Mississippi examined
LaReeca Rucker
The Clarion-Ledger
He was both admired and resented during Mississippi's volatile civil rights era. Rabbi Perry Nussbaum became an outspoken voice against racism and segregation in Jackson during his 19 years as rabbi of Beth Israel Congregation, and his life was the topic of the first of 13 Jewish literacy classes that began Tuesday at the synagogue.
Rabbi Allen Krause, a former assistant professor in the comparative religions department at California State University, Fullerton, led the event.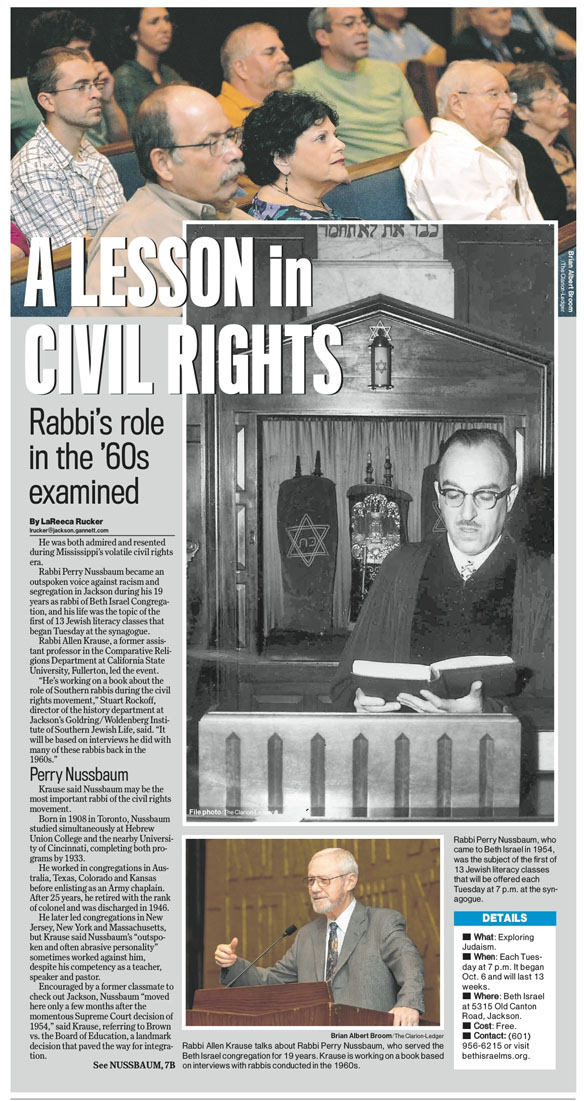 "He's working on a book about the role of Southern rabbis during the civil rights movement," Stuart Rockoff, director of the history department at Jackson's Goldring/Woldenberg Institute of Southern Jewish Life, said. "It will be based on interviews he did with many of these rabbis back in the 1960s."
Perry Nussbaum
Krause said Nussbaum may be the most important rabbi of the civil rights movement. Born in 1908 in Toronto, Nussbaum studied simultaneously at Hebrew Union College and the nearby University of Cincinnati, completing both programs by 1933. He worked in congregations in Australia, Texas, Colorado and Kansas before enlisting as an Army chaplain.
After 25 years, he retired with the rank of colonel and was discharged in 1946. He later led congregations in New Jersey, New York and Massachusetts, but Krause said Nussbaum's "outspoken and often abrasive personality" sometimes worked against him, despite his competency as a teacher, speaker and pastor.
Encouraged by a former classmate to check out Jackson, Nussbaum "moved here only a few months after the momentous Supreme Court decision of 1954," said Krause, referring to Brown vs. the Board of Education, a landmark decision that paved the way for integration.
"Jackson, like every other section of Mississippi, was open to very little dissent with regard to the racial system that had been in place for generations," Krause said. The climate also affected the Jewish community. "There was always the specter of antisemitism in the back of their minds, reminding them that they were a small and vulnerable minority, and it would be smart not to make waves," he said. Nussbaum saw the dangers of fighting injustice.
He was one of the rabbis Krause interviewed the summer of 1966, who told him any minister who dared hint that segregation was un-Christian faced threats. Nussbaum, however, continued to fight for civil rights, even though that sometimes put him at odds with his own congregation.
According to the Institute of Southern Jewish Life website, he became deeply involved in interfaith work. He also drove to Parchman State Prison each week during the summer of 1961 to visit the Jewish Freedom Riders (civil rights activists) from the North. His congregation feared that his bravery might lead to retribution, and they were right.
On Sept. 18, 1967, several White Knights of the Ku Klux Klan detonated a bomb outside the rabbi's study in Beth Israel's new synagogue. "Nussbaum was often in his study that time of night working," Krause said.
Two months later, the Klan bombed Nussbaum's home. No one was hurt during either explosion, but the attacks became a turning point in Mississippi's civil rights movement. Nussbaum remained at Beth Israel until his retirement at age 65 in 1973. He later moved near San Diego, continued civil rights work and participated in social welfare groups.
"I don't think a lot of people know how courageous he was because he didn't want anyone to know about it," Krause said, "but the KKK knew about it."
Dr. John Bower is well aware of Nussbaum's courage. When Bower was a member of the University of Mississippi Medical Center faculty, Nussbaum often visited him in the 1960s and confided his struggles.
"I saw in him a man of great vision, a man who could see the injustice that existed in our culture," Bower said. "I didn't contribute anything; I just listened. He was fighting on many fronts. He loved his congregation, but he was in constant discord with members of his congregation."
Bower donated $250,000 to create a lectureship in Nussbaum's honor at Millsaps College last year. The Rabbi Perry Nussbaum Lecture Series is dedicated to men and women who stood their ground against racial bigotry and religious prejudice in the South during the civil rights era. Nussbaum died of cancer in 1983.

"We cannot allow the spirit of this man's search for social justice to die," Bower said.