Beth Israel in Mississippi to celebrate 150th anniversary
LaReeca Rucker
The Clarion-Ledger
Beatrice Lehman Gotthelf, 91, is a third-generation member of Beth Israel Congregation who fondly remembers good times on the grounds, like her wedding day, Hanukkah dinners, outdoor picnics and the annual Sisterhood bazaar.
She also recalls dark moments, like the year 1967 when the congregation moved into its present home on Old Canton Road and local Ku Klux Klan members bombed the synagogue.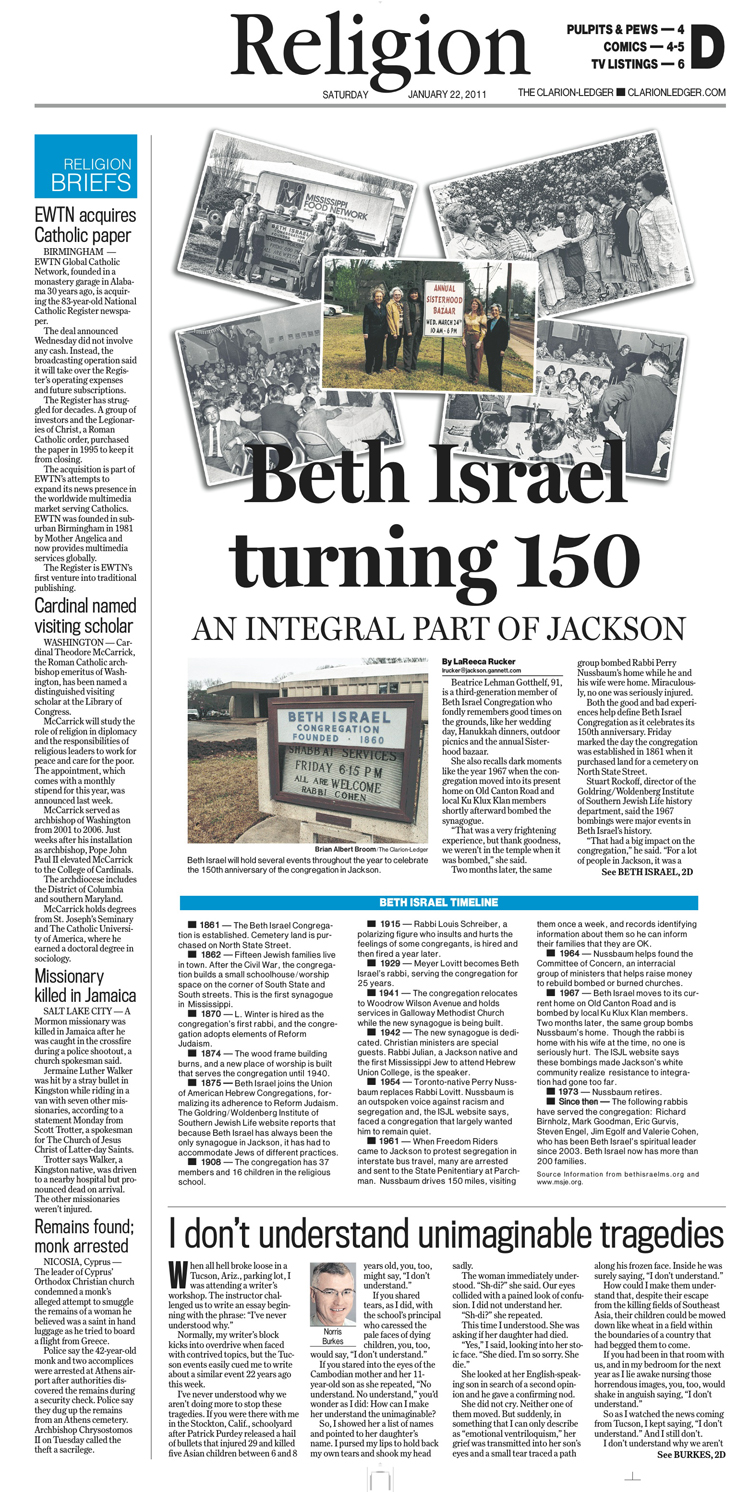 "That was a very frightening experience, but thank goodness, we weren't in the temple when it was bombed," she said.
Two months later, the same group bombed Rabbi Perry Nussbaum's home while he and his wife were home. Miraculously, no one was seriously injured.
Both the good and bad experiences help define Beth Israel Congregation as it celebrates its 150th anniversary. Friday marked the day the congregation was established in 1861 when congregation members purchased land for a cemetery on North State Street.
Stuart Rockoff, director of the Goldring/Woldenberg Institute of Southern Jewish Life History Department, said the 1967 bombings were major events in Beth Israel's history.
"For a lot of people in Jackson, it was a sign that this sort of resistance to civil rights change had gone too far," he said. "Unfortunately, it took the bombing of a white 'church,' quote unquote, to reach the white people of Jackson. On the one hand, it was a traumatic episode, but I think it also showed a lot of Jews in Jackson that they had a lot of friends in the community and a lot of support."
Rockoff said in the last 30-40 years, Jackson has emerged as a Jewish community leader in Mississippi.
"What's interesting is Jackson has only had one Jewish congregation," he said. "There's never been two. In other towns in the South and across America, there have been multiple congregations. Meridian had an Orthodox synagogue and a Reformed synagogue. The Jews in Jackson have always had to get along. They've had to compromise to maintain that connection."
While most Jews in America live in larger cities on the coast and in New York and Los Angeles, Rockoff said the presence of Jewish congregations in places like Jackson shows the rest of America that Jews are part of the mainstream.
"I think that the presence of this congregation here has helped to make the community more diverse, tolerant and aware of interfaith issues," he said. "And certainly, one of the responsibilities of Jews in places like Jackson and in smaller places in the South is they have had to represent Judaism to their non-Jewish neighbors. They have taken that responsibility seriously."
The church-going culture of the South may have helped unite Jackson's Jewish community, Rockoff said. "One of the differences between living in a place like Jackson and living in a larger city is if you want to be Jewish or act Jewishly, you need to belong to a congregation," he said. "There's no other way to live a Jewish life than to belong to the congregation.
"Part of the culture of the South, Mississippi and Jackson is belonging to a church and being active and involved in a church. People ask you what church you go to, and if you say, 'Beth Israel,' that's an acceptable answer. They have benefited from that church-going culture."
Rabbi Valerie Cohen, who has served Beth Israel since 2003, said the Mississippi Legislature introduced a resolution Thursday recognizing and congratulating the congregation on its sesquicentennial anniversary and acknowledging it as the largest synagogue in the state.
"The Jewish community has been an integral part of the greater Jackson community for a very long time," Cohen said. "It's been active in both the business world and the volunteer world. To know that we have such a rich history and such strong roots - for those people who are third-, fourth- and fifth-generation Jacksonians and Beth Israelites - I think there's an immense amount of pride."
The congregation has several anniversary events planned throughout the year. On March 4-5, Eli Evans will speak about the Southern Jewish experience. "It's coinciding with Tikkun Olam Shabbat, our social justice Sabbath," Cohen said.
The congregation also plans to hold an event coinciding with the 50th anniversary of the Freedom Riders activism in Mississippi. In 1961, when Freedom Riders came to Jackson to protest segregation in interstate bus travel, many were arrested and sent to the state penitentiary at Parchman.
Nussbaum drove about 150 miles each way once a week to visit them, deliver personal supplies and lead a worship service. He also recorded their names and information to reassure their families of their safety.
"We have examples of letters he wrote to their parents to let them know they were OK," Cohen said. The largest celebration will be Sept. 15-18. Present and former congregation members, as well as Beth Israel's preschool alumni are invited to attend. Joshua Nelson, who sings in the tradition of Mahalia Jackson, will perform.
"He's an African-American Jew, which is uncommon in itself," Cohen said. "I would almost describe it as 'Jewish Gospel,' but you can't really say Gospel because Gospel is inherently Christian."
Congregation members are also in the process of completing a new commemorative landscaping project. Cohen said all of Beth Israel's regular events, like the annual Sisterhood bazaar, will tie into the anniversary. For almost 40 years, the charity fundraiser has attracted hundreds from Jackson who come to eat homemade Jewish food.
"We are the only show in town when it comes to Jews, which is significant," Cohen said. "Now that it's all starting to come, I can see the smiles, joy and realization of how big this is starting to appear with the individual congregants. We are very proud to be here this long and hope to be here many, many more years."