Motorcycle Ministries: Born (again) to be wild
LaReeca Rucker:
The Clarion-Ledger
Terry Woody Osborn spent many years as a church leader before drifting away. It took a motorcycle gang to bring him back.
The Clinton dentist said he rebuilt his relationship with God while constructing a custom-built bike dubbed "Armageddon."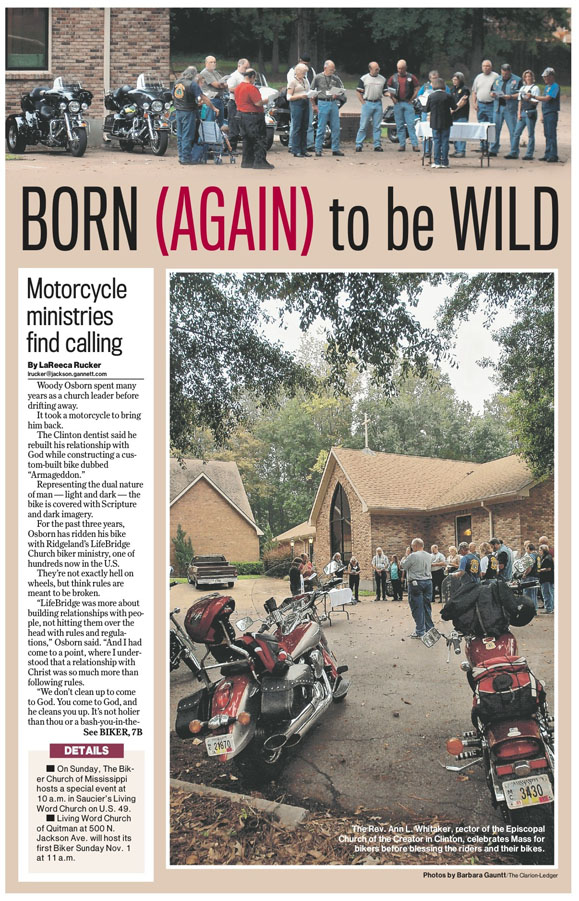 Representing the dual nature of man - light and dark - the bike is covered with scripture and dark imagery.
For the past three years, Osborn has ridden his bike with Ridgeland's LifeBridge Church biker ministry, one of hundreds now in the U.S.
They're not exactly hell on wheels, but the members think rules are meant to be broken.
"LifeBridge was more about building relationships with people, not hitting them over the head with rules and regulations," Osborn said. "And I had come to a point, where I understood that a relationship with Christ was so much more than following rules.
"We don't clean up to come to God. You come to God, and he cleans you up. It's not holier than thou or a bash-you-in-the-face experience. It's simply loving people and meeting them where they are."
About 20 bikers generally ride with LifeBridge, participate in Bible study, socialize and raise money for charity. They are currently collecting funds to purchase Christmas presents for residents of Ridgeland's Sunnybrook Children's Home.

Common bond

Wayne Williams founded LifeBridge Riders.
"People who weren't going to church are now riding with us," he said. "But it's not just about riding motorcycles. It's about growing in our spiritual walk. Motorcycles bring us together, and through time, Christ also becomes a common bond."
Dave Speir shares that philosophy as a pastor with The Biker Church of Mississippi.
"The founders (John and Jackie Taylor) weren't comfortable in a suit and tie preaching to people in a conventional setting," he said. "We both shared a vision with the Lord to reach the biker community."
Speir joined the Taylors in 2005, and now The Biker Church, a nondenominational Christian ministry, meets Sunday afternoons and Thursday evenings at the La Quinta Inn in Hattiesburg, and Tuesday nights in Saucier's Living Word Church auditorium. About 100 people generally attend in Hattiesburg and 60 in Saucier.
"I knew there were a lot of people out there who needed the Lord, and they would never come to a conventional church," Speir said. "The motorcycle just opens the door."
The Biker Church of Mississippi is the headquarters for The Biker Church National. Speir said affiliates have formed in D.C. and Michigan.
Billy Tisdale, president of the Meridian chapter of the Christian Motorcycle Association - Restoration Riders - became interested in biking after installing an electronic amplification system at a biker rally.
"I saw a guy with a patch on his back that had a Christian symbol," he said. "I started researching it and found that they go to rallies to try to reach bikers. I started a chapter in Meridian. We go to bars and rallies wherever they are."

Blessing

Because of requests, Clinton's Episcopal Church of the Creator held its second biker Mass in September.
"We gathered outside in our front parking lot with bikes all in a row and celebrated a service of Holy Communion," said the Rev. Ann L. Whitaker, rector. "I blessed each bike and biker before we went on a 100-150 mile ride. I had never ridden before, so it was quite an adventure for me.
"We plan to make this an annual event. We hope that if people see that we are kindred spirits, they'll come and join us, and who knows where that might lead?"