Fight Club: Sermon series teaches couples how to stabalize a rocky marriage
LaReeca Rucker:
The Clarion-Ledger
Marsha Wilson, 44, recently quit her job as a bookkeeper to stay home and help her two teenage sons improve their declining grades.
The boxing referee enticed the crowd and introduced the robed fighters. In one corner of the ring was Steve Theim, a former Army sergeant. In the other corner - Rachel Theim, a fitness instructor.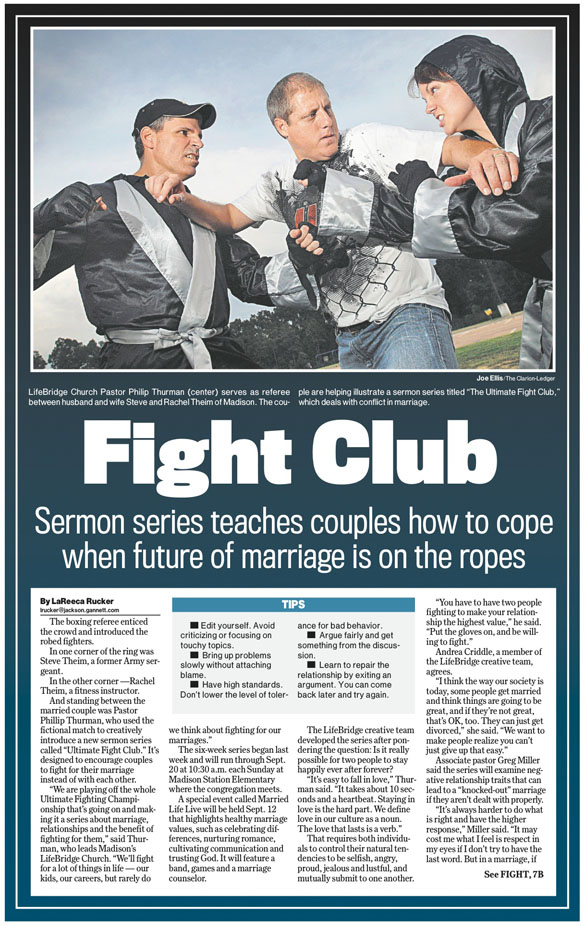 And standing between the married couple was Pastor Phillip Thurman, who used the fictional match to creatively introduce a new sermon series called "Ultimate Fight Club." It's designed to encourage couples to fight for their marriage instead of with each other.
"We are playing off the whole Ultimate Fighting Championship that's going on and making it a series about marriage, relationships and the benefit of fighting for them," said Thurman, who leads Madison's LifeBridge Church. "We'll fight for a lot of things in life - our kids, our careers, but rarely do we think about fighting for our marriages."
The six-week series began last week and will run through Sept. 20 at 10:30 a.m. each Sunday at Madison Station Elementary where the congregation meets. A special event called Married Life Live will be held Sept. 12 that highlights healthy marriage values, such as celebrating differences, nurturing romance, cultivating communication and trusting God. It will feature a band, games and a marriage counselor.
The LifeBridge creative team developed the series after pondering the question: Is it really possible for two people to stay happily ever after forever?
"It's easy to fall in love," Thurman said. "It takes about 10 seconds and a heartbeat. Staying in love is the hard part. We define love in our culture as a noun. The love that lasts is a verb."
That requires both individuals to control their natural tendencies to be selfish, angry, proud, jealous and lustful, and mutually submit to one another.
"You have to have two people fighting to make your relationship the highest value," he said. "Put the gloves on, and be willing to fight."
Andrea Criddle, a member of the LifeBridge creative team, agrees.
"I think the way our society is today, some people get married and think things are going to be great, and if they're not great, that's OK, too. They can just get divorced," she said. "We want to make people realize you can't just give up that easy."
Associate pastor Greg Miller said the series will examine negative relationship traits that can lead to a "knocked-out" marriage if they aren't dealt with properly.
"It's always harder to do what is right and have the higher response," Miller said. "It may cost me what I feel is respect in my eyes if I don't try to have the last word. But in a marriage, if the husband and wife aren't continuing to grow, it's going to deteriorate. The only person I can really impact and change is myself. It's got to start with you."
When a fight escalates, Miller said play by the rules.
"Using the boxing analogy, when the bell rings, I can go to my corner and take a timeout to process things and make sure I don't say something that could make things worse," he said.
The Fight Club concept has been used nationwide. Daniel M. Hodges was a missionary kid born on the Gaza Strip whose family eventually moved to Hickory, N.C. After graduating from Appalachian State University, he began working in Charlotte with Kinetic Church, a young, nondenominational congregation.
Kinetic's Fight Club marriage series was a creative take on the 1999 movie starring Edward Norton and Brad Pitt. The church used material from the book Love & Respect: The Love She Most Desires; The Respect He Desperately Needs.
Hodges said fighting isn't always a bad thing, if you do it fairly.
"My father is a marriage and family counselor, and he's always said that if you don't fight and have arguments in a relationship, there's a problem, because how you work through them determines the relationship," he said.
Stephen Southern, chairman of the department of psychology and counseling at the Mississippi College School of Education, advises couples to take 5-10 minutes daily to discuss thoughts and feelings, maintaining eye contact. Don't judge or problem-solve. Then, summarize what was heard and offer an empathic response.
He said it's also important to remember that opposites attract, and this combination provides spice for a romantic and meaningful relationship. But conflicts develop when one person tries to change the other.
The solution?

"Martin Buber, the theologian, said: 'Accept the otherness of the other,'" Southern said. "It is possible to build a strong relationship through disagreement. Respect what your partner has to say and how that person uniquely sees the world."

Tips

* Edit yourself. Avoid criticizing or focusing on touchy topics.

* Bring up problems slowly without attaching blame.

* Have high standards. Don't lower the level of tolerance for bad behavior.

* Argue fairly and get something from the discussion.

* Learn to repair the relationship by exiting an argument. You can come back later and try again.