Film Review: 'Flightplan'
LaReeca Rucker:
The Clarion-Ledger
It's the menacing Hitchcock glances that keep us wondering who has stolen Jodie Foster's daughter or whether she ever existed in "Flightplan." What those glances mean is enough to make audience members invest in the movie, and Foster's tense performance captivatingly carries them throughout it.
Director Robert Schwentke uses a proven suspense thriller tactic — make every cast member suspicious.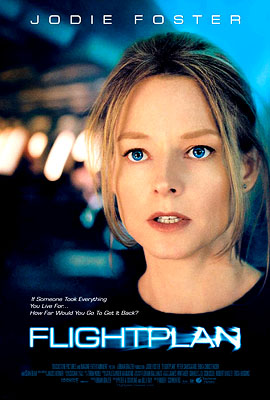 He begins with Foster, an airplane engineer whose husband recently died. She and her 6-year-old daughter, Julia, (who bears a striking resemblance to Foster) must fly from their home in Germany back to the United States, transporting his coffin.
It's a Titanic of a plane that Foster designed herself, with two-stories, a bar and hundreds of nooks and crannies. She and her daughter are the first to board the Alto Airlines jet, which quickly becomes filled with bratty kids and self-absorbed Americans, too wrapped up in themselves to notice whether Foster has a kid or if the little girl is missing.
Foster and her daughter eventually move to the back of the plane, where they stretch out on unoccupied seats. But when Foster awakens from a lengthy nap, Julia is nowhere to be found.
Schwentke is aware of traditional movie stereotypes and uses them to his advantage, turning the tables on his audience, who has learned to suspect one thing but get something else. The squinty-eyed lead male character, Peter Sarsgaard, looks questionable from the start.
We also begin to immediately suspect Sean Bean, who played a villain in "Goldeneye" and has the voice of a stereotypical evil-doer. And the angelically blonde wide-eyed Erika Christensen projects innocence. But is she?
Schwentke also plays with stereotypes by confronting them. When a distraught Foster accuses a Middle Eastern passenger of trying to steal her daughter and hijack the plane, we see she's making a rash judgment in a time of crisis. The politically incorrect act serves as a politically correct warning to movie-goers.
I'm not sure what it is about Foster that makes her so interesting to watch, but she's one of the few Hollywood actresses like Meryl Streep, Sissy Spacek and Hillary Swank who have longevity, proving talent means more than sex appeal.
They are capable of being glamorous when dolled up Hollywood-style, but their Oscar-winning roles have not been dependent on their shade of lipstick. Charlize Theron in movies like "Monster" and the soon-to-be-released "North Country" is following their lead.

You're on Foster's side throughout this film. You want the crew to listen to her and are frustrated when they refuse. And you eventually question her sanity, as does she.
"Flightplan" was more tense than "Red Eye," another recently released airplane movie. And while both lead actresses, Foster and Rachel McAdams, gave good performances, both storylines ultimately lack succinct conclusions.