$4M Hindu temple opens in Rankin: Mississippi's Hindu population grows
LaReeca Rucker:
The Clarion-Ledger
Mississippi's Hindu population has increased since Sampat Shivangi immigrated to the state in 1978, just as the population nationally has done. The Hindu population of America has grown from 1,700 in 1900 to 2.29 million in 2008.
When Shivangi moved to Mississippi, only a handful of Indian families were living in the state. Today, "I would (estimate that there are) close to 1,000," said Shivangi, chairman of the Hindu Temple Society of Mississippi's Public Relations Committee.
That growth is one reason the society's members decided to build a bigger temple in front of the original structure on three acres in Rankin County.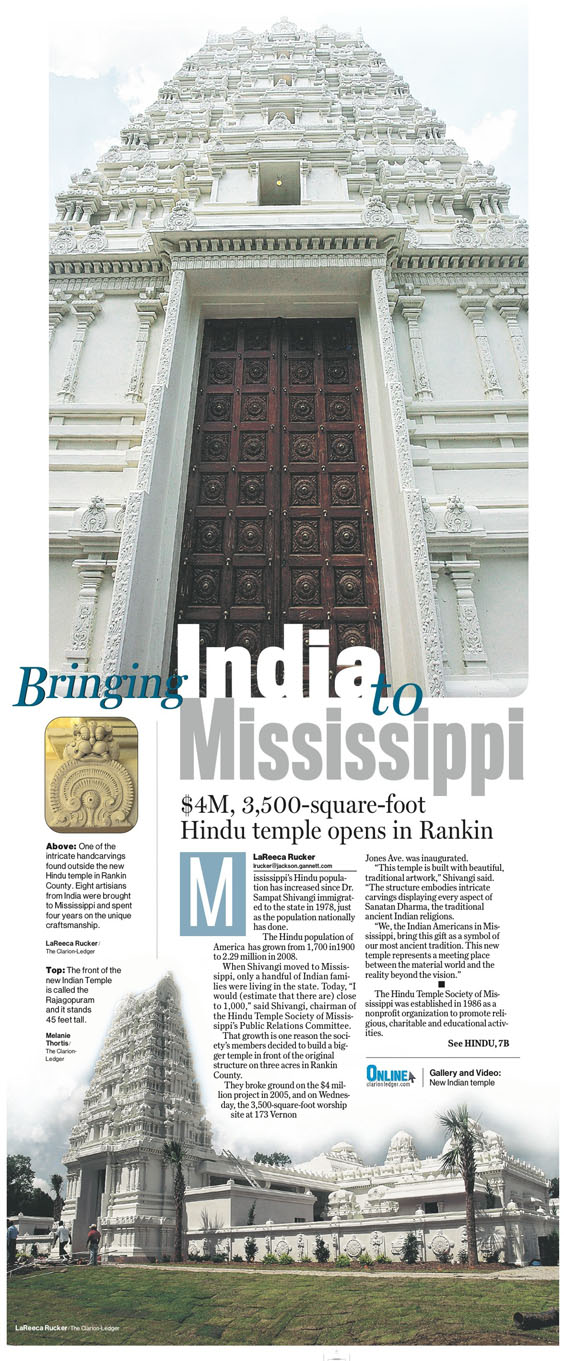 They broke ground on the $4 million project in 2005, and on Wednesday, the 3,500-square-foot worship site at 173 Vernon Jones Ave. was inaugurated.
"This temple is built with beautiful, traditional artwork," Shivangi said. "The structure embodies intricate carvings displaying every aspect of Sanatan Dharma, the traditional ancient Indian religions.
"We, the Indian Americans in Mississippi, bring this gift as a symbol of our most ancient tradition. This new temple represents a meeting place between the material world and the reality beyond the vision."
The Hindu Temple Society of Mississippi was established in 1986 as a nonprofit organization to promote religious, charitable and educational activities.
Its mission is to provide a place for Hindus to worship in traditional style and provide religious, humanitarian, cultural and educational resources to all interested in Hinduism.
A five-day celebration of the grand opening, referred to as the Prana Prathishta/Kumbhabhishekam Ceremony, was held May 22-26. Priests declared those as the most favorable days to perform the extensive rituals necessary for the event.
V. V. Prakasa Rao moved to Texas last year after living for 35 years in Mississippi but he returned to be part of the celebration.
"In 1980, there were about 45 Indian families here," said Rao, who retired in 2006 as chairman of Jackson State University's Department of Sociology and Criminology. "We realized there must be something we could do for our
children because they needed to know the roots of the religion.
"This is about the preservation of the essence of Hinduism. In Hinduism, we believe that the Almighty is one, but he is manifested in millions and millions of manifestations."
Hinduism is the third largest organized religion in the world, behind Christianity and Islam, with about a billion followers. As with any religion, beliefs vary by community, but reincarnation is a primary belief.
Followers believe that in death, the soul is reborn as a human or animal continuously until the soul achieves spiritual perfection and is united with the supreme being.
Hinduism has many deities, which are all manifestations of one God. The primary trio is made up of Brahma, the creator; Vishnu, the preserver; and Shiva, the destroyer.
"In Hinduism, we value the freedom to worship," said Rao, who has toured temples all over the country and believes the Brandon temple is the most beautiful Hindu temple in the South.
The new temple construction began in 2006. The building features 22 columns, an outdoor and indoor dome and a 45-foot-tall front structure. Inside, there are three main temples for Lords Balaji, Shiva and Rama, and more than 10 subtemples for demigods and goddesses that represent various Indian cultures.
The last ceremonial step was moving and installing the deities from the old temple to the new one and performing rituals for installing divinity and spiritual power.
"We are going to evoke life into the gods that were installed into the temple," said Baldev Patel, who moved from California to Mississippi in 1986 and is now chairman of the Hindu Temple Society.
"Since then, I have learned to live from the (Bhagavad) Gita, (a sacred Hindu scripture)," he said, "and coming to the temple changed my life."
More than 16 Hindu priests were invited to this week's event from various parts of the U.S. and India. Shivangi said eight artisans from India spent four years in Mississippi completing the temple's unique handcarved designs.
"They came in 2004," he said. "This is what they have done from childhood. They learn from their parents, and this is what they do for a living. They move from temple to temple."
Rusty Pyron, who lives in a community behind the temple, drove up in a golf cart to check out construction last week.
"We've lived here six years," he said. "We've watched the whole thing being built out here. It's one of the prettiest buildings in Jackson."
Todd Tyler, of Todd Tyler Landscapes, has been sculpting the lawn the past six weeks.
"It's been a unique project unlike any we've ever worked on," he said. "It was an educational process."
Jerry Patel, a member of the Prana Prathishta event steering committee, said many American subcontractors were used to complete the project.
"We're proud they played a part in the building of this temple," he said.
"Lately, in the last several weeks, we've had an unprecedented amount of people wanting to know what it is," he said. "Our long-term goal is that we will have recordings in (different languages) that explain what each deity means, and it will be a tourist destination.
"We have brought India to Mississippi."