Mission in life clear: Mississippi missionaries wed and help Sudanese refugees
LaReeca Rucker
The Clarion-Ledger
Before they met, Nathan and Mary Margaret Bogue were inspired by friends to become missionaries. Nathan ventured to China, Vietnam, India and Iraq, while Mary Margaret visited West Africa and Southern Sudan.
"The commonality of doing missions is one of the main reasons we dated and later got married," said Nathan. "One of our goals was to go on mission trips together."
Mary Margaret, a second-grade teacher at Madison Station Elementary School, and Nathan, who has worked as the middle school minister at Madison's Ridgecrest Baptist Church the past nine years, spent their first wedding anniversary conducting a medical mission in Southern Sudan that helped more than 1,000 people.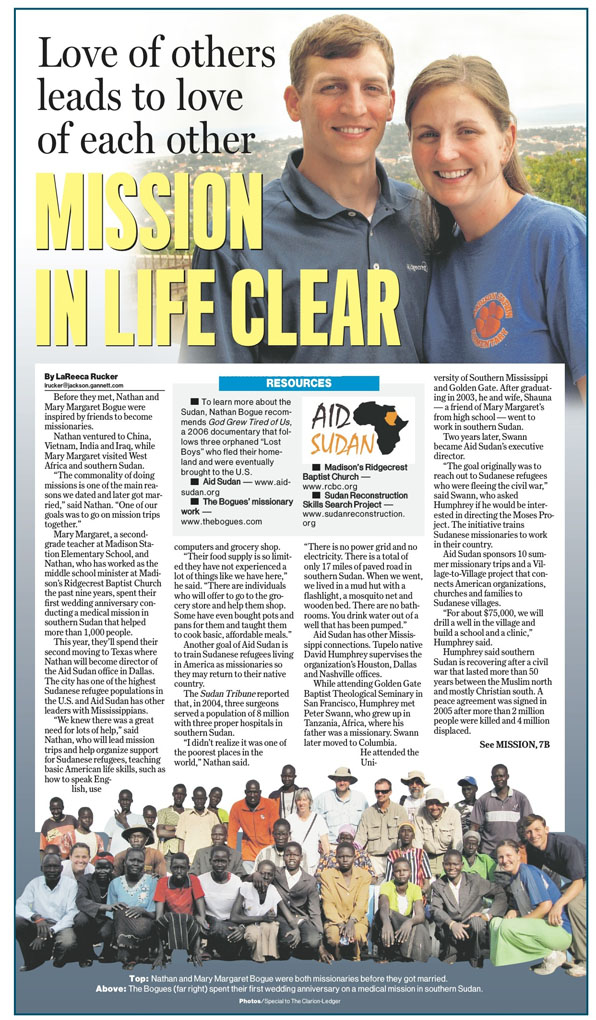 This year, they'll spend their second moving to Texas where Nathan will become director of the Aid Sudan office in Dallas. The city has one of the highest Sudanese refugee populations in the U.S., and Aid Sudan has other leaders with Mississippians.
"We knew there was a great need for lots of help," said Nathan, who will lead mission trips and help organize support for Sudanese refugees, teaching basic American life skills, such as how to speak English, use computers and grocery shop. "Their food supply is so limited they have not experienced a lot of things like we have here. There are individuals who will offer to go to the grocery store and help them shop. Some have even bought pots and pans for them and taught them to cook basic, affordable meals."
Another goal of Aid Sudan is to train Sudanese refugees living in America as missionaries so they may return to their native country. The Sudan Tribune reported that, in 2004, only three surgeons served a population of 8 million with three proper hospitals in Southern Sudan.
"I didn't realize it was one of the poorest places in the world," Nathan said. "There is no power grid and no electricity. There is a total of only 17 miles of paved road in Southern Sudan. When we went, we lived in a mud hut with a flashlight, a mosquito net and wooden bed. There are no bathrooms. You drink water out of a well that has been pumped."
Aid Sudan has other Mississippi connections. Tupelo native David Humphrey supervises the organization's Houston, Dallas and Nashville offices. While attending Golden Gate Baptist Theological Seminary in San Francisco, Humphrey met Peter Swann, who grew up in Tanzania, Africa, where his father was a missionary. Swann later moved to Columbia.
He attended the University of Southern Mississippi and Golden Gate. After graduating in 2003, he and wife, Shauna - a friend of Mary Margaret's from high school - went to work in Southern Sudan. Two years later, Swann became Aid Sudan's executive director.
"The goal originally was to reach out to Sudanese refugees who were fleeing the civil war," said Swann, who asked Humphrey if he would be interested in directing the Moses Project. The initiative trains Sudanese missionaries to work in their country.
Aid Sudan sponsors 10 summer missionary trips and a Village-to-Village project that connects American organizations, churches and families to Sudanese villages.
"For about $75,000, we will drill a well in the village and build a school and a clinic," Humphrey said.
Humphrey said Southern Sudan is recovering after a civil war that lasted more than 50 years between the Muslim north and mostly Christian south. A peace agreement was signed in 2005 after more than 2 million people were killed and 4 million displaced. The U.S. government took notice around 2000 and brought many refugees to the U.S. who became known as the "Lost Boys of the Sudan."
Mark Brashier, a member of Ridgecrest's mission team, said the church will miss the Bogues, but church members are excited about what lies ahead for the couple.
"When you find something you can believe in, and you feel God leading you in that direction, it's hard to argue with that."
Mary Margaret said she feels blessed to share her faith.
"Every mission trip I've gone on, I think I've learned more about my relationship with God, and God has used that to change me."
The Bogues are experiencing several transitions at once. They will move in July. They are expecting their first child in August, and their mission trips to Sudan begin in 2010.
"It's a lot of change, but I feel like the timing of everything that has happened has just kind of fallen into place, and God had his hand in it," said Mary Margaret. "Both of our paths prepared us for where we are now."
RESOURCES
* To learn more about the Sudan, Nathan Bogue recommends "God Grew Tired of Us," a 2006 documentary that follows three orphaned "Lost Boys" who fled their homeland and were eventually brought to the U.S.
*Aid Sudan - www.aidsudan.org
* The Bogues' missionary work - www.thebogues.com
* Madison's Ridgecrest Baptist Church - www.rcbc.org
* Sudan Reconstruction Skills Search Project - www.sudanreconstruction.org