Rabbi meets the road: Klaven to serve several congregations across the South
LaReeca Rucker
The Oxford Eagle
He was kicked out of Hebrew school for being a joker. A teacher lacking a sense of humor wasn't willing to tolerate young Marshal Klaven's antics. But little did she know the boy would become a rabbi.
"I had a serious teacher who didn't tolerate any kind of ruckus in the classroom, and I was always trying to push the envelope a bit," Klaven laughed. "Sometimes it pushed back. Maybe that's still a part of me. I feel like if we don't push a little bit and prod to see what's out there, we will never know how far we can go."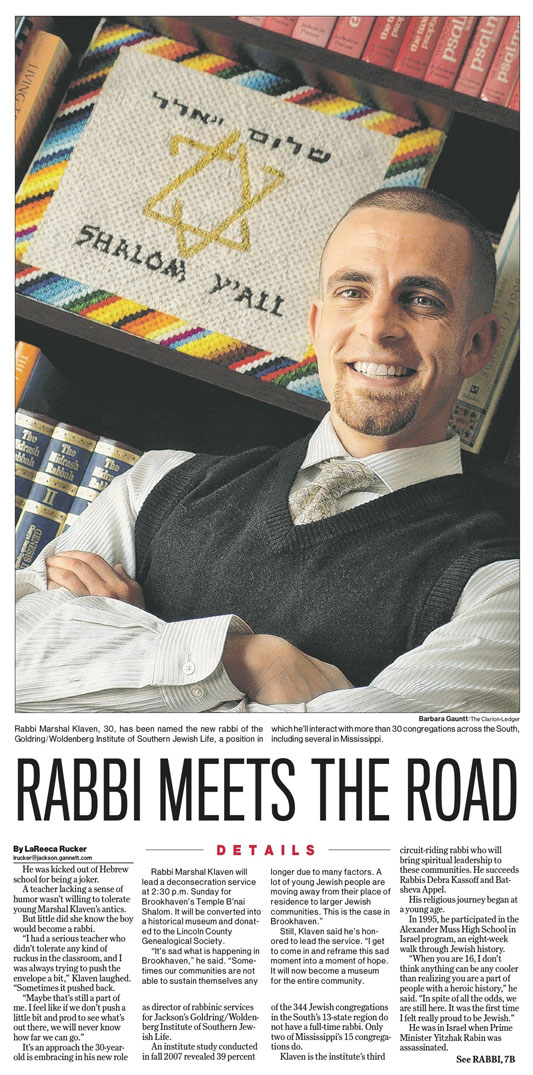 It's an approach the 30-year-old is embracing in his new role as director of rabbinic services for Jackson's Goldring/Woldenberg Institute of Southern Jewish Life. An institute study conducted in fall 2007 revealed 39 percent of the 344 Jewish congregations in the South's 13-state region do not have a full-time rabbi. Only two of Mississippi's 15 congregations do.
Klaven is the institute's third circuit-riding rabbi who will bring spiritual leadership to these communities. He succeeds Rabbis Debra Kassoff and Batsheva Appel. His religious journey began at a young age. In 1995, he participated in the Alexander Muss High School in Israel program, an eight-week walk through Jewish history.
"When you are 16, I don't think anything can be any cooler than realizing you are a part of people with a heroic history," he said. "In spite of all the odds, we are still here. It was the first time I felt really proud to be Jewish."
He was in Israel when Prime Minister Yitzhak Rabin was assassinated. Klaven later became involved with the North American Foundation of Temple Youth, part of the Reform Jewish Youth Movement, and was eventually named a NAFTY regional leader of the Missouri Valley. He attended Florida Atlantic University in Boca Raton, earning a bachelor's degree in social work with a minor in ethnic and Judaic studies.
During his senior year, "Israel was experiencing the second intifada," he said, referring to the second Palestinian uprising that began in September 2000. "I decided I would go and assist Israel in this difficult moment. I didn't fight, but I volunteered for one of the Israeli fighters who was needed to fight at that time."
Klaven became a replacement fisherman for the soldier, and rose at 2 a.m. each morning to drag the nets, sort the fish and prepare them for market. After returning to the states, he became a wilderness specialist in Colorado, teaching Jewish youth the connection between Judaism and the environment. Then he had a life-changing experience as a teaching assistant for children with autism in the St. Louis Special School District.
"I was assigned to a particular student who a lot of people had given up on because he hit, kicked, scratched and, at 12 years old, didn't know how to use the restroom," Klaven said. "After working with him 10 months, he was able to play with other kids his age and use the restroom himself. He went from not speaking to using a computer with images to communicate.
"One morning his mom came in crying. She said, 'He told me he loved me.' He started to say one or two words by the end of the school year. I just think it was a complete blessing to be put in a situation where it was the right time, right place, right people, and because of that connection, we both grew. I knew I needed to continue doing what God intended for me to do, so I applied for rabbinical school."
Klaven attended the Hebrew Union College-Jewish Institute of Religion, studying in Israel and on the Cincinnati campus. He was simultaneously commissioned as a second lieutenant chaplain in the U.S. Air Force.
"I decided to work with the military because it's an underserved group of Jews, and it was the opportunity to give back to my country, which has given me so much," he said. "I try to work with communities that are underserved."
That's why he later noticed a campus job posting for the Institute of Southern Jewish Life position. His responsibilities now include serving 30-40 Jewish congregations in 10 of 13 states. Institute President Macy Hart said he jumped at the opportunity to hire Klaven from a pool of many applicants.
"It was his overall personality, enthusiasm, desire to do the things the institute stands for, military career, and he was highly recommended," Hart said.
Cynthia Kristan-Graham, co-director of the Beth Shalom Sunday school in Auburn, Ala., said Klaven recently visited the congregation.
"He is very knowledgeable, personable and charming," she said. "He is very creative in how he approaches Judaism, and he's really going to make it seem relevant to people who didn't think it was relevant in their lives."
Gwen Cooper, president of Beth Shalom, said she was impressed by Klaven's warmth and kindness.
"It felt like we were all old friends at the end of the day," she said. "The adults, including myself, are excited to have Rabbi Klaven as our ISJL rabbi and look forward to a wonderful three years of unparalleled achievements."