Ubuntu: Showing humanity towards others
LaReeca Rucker
The Clarion-Ledger
Michelle Shrader decided to transition from speech therapist to pastor when she became aware of the class and racial divides in her Florida town.
"I was really involved in leadership at an affluent, all-white church," Shrader said, "and I was working in the school just across the tracks that had no resources and was primarily attended by children from low-income African-American families.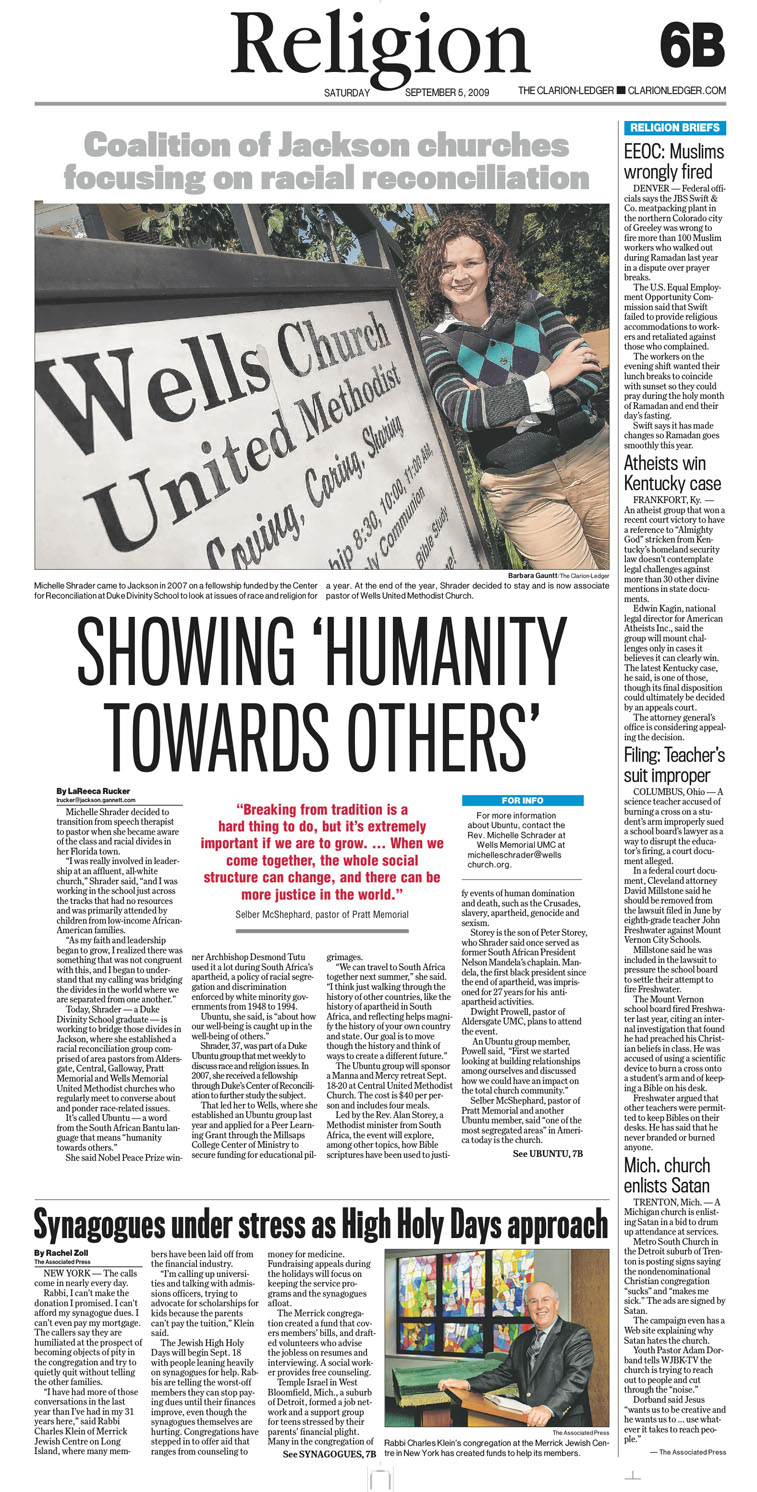 "As my faith and leadership began to grow, I realized there was something that was not congruent with this, and I began to understand that my calling was bridging the divides in the world where we are separated from one another."

Today, the Duke Divinity School graduate is working to bridge those divides in Jackson, where she established a racial reconciliation group comprised of area pastors from Aldersgate, Central, Galloway, Pratt Memorial and Wells Memorial United Methodist churches, who regularly meet to converse about and ponder race-related issues.

It's called Ubuntu - a word from the South African Bantu language that means "humanity towards others."

Shrader said Nobel Peace Prize winner Archbishop Desmond Tutu used it a lot during South Africa's apartheid, a policy of racial segregation and discrimination enforced by white minority governments from 1948 to 1994. Ubuntu, she said, is "about how our well-being is caught up in the well-being of others."

Shrader, 37, was part of a Duke Ubuntu group that met weekly to discuss race and religion issues. In 2007, she received a fellowship through Duke's Center of Reconciliation to further study the subject. That led her to Wells, where she established an Ubuntu group last year and applied for a Peer Learning Grant through the Millsaps College Center of Ministry to secure funding for educational pilgrimages.

"We can travel to South Africa together next summer," she said. "I think just walking through the history of other countries, like the history of apartheid in South Africa, and reflecting helps magnify the history of your own country and state. Our goal is to move though the history and think of ways to create a different future."

The Ubuntu group will sponsor a Manna and Mercy retreat Sept. 18-20 at Central United Methodist Church. The cost is $40 per person and includes four meals. Led by the Rev. Alan Storey, a Methodist minister from South Africa, the event will explore, among other topics, how Bible scriptures have been used to justify events of human domination and death, such as the Crusades, slavery, apartheid, genocide and sexism.

Storey is the son of Peter Storey, who Shrader said once served as former South African President Nelson Mandela's chaplain. Mandela, the first black president since the end of apartheid, was imprisoned for 27 years for his anti-apartheid activities.

Dwight Prowell, pastor of Aldersgate UMC, plans to attend the event. The Ubuntu group member said, "First we started looking at building relationships among ourselves and discussed how we could have an impact on the total church community."

Selber McShephard, pastor of Pratt Memorial and another Ubuntu member, said "one of the most segregated areas" in America today is the church.
"Often you grow up in the church your grandparents have grown up in," she said. "Breaking from tradition is a hard thing to do, but it's extremely important if we are to grow ... When we come together, the whole social structure can change, and there can be more justice in the world."

Michelle Deardorff, one of two lay representatives involved in Ubuntu, has been trying to bridge racial gaps since 1997 when she began working with Jackson State University's Fannie Lou Hamer National Institute on Citizenship and Democracy. That group of academics help students, teachers and the community examine the civil rights movement.
"I have been working on issues of race for a long time," said Deardorff, a member of Wells, "but the (Ubuntu) group is one of the first times I was able to work with other people who share my faith. We're still getting to know each other's points of view. We've been reading books and slowly sharing our biographies with one another, but we still have some hard conversations ahead of us."

Deardorff said Ubuntu is about two things.
"One is a shared faith that should help us transcend a lot of cultural and historical barriers," she said. "The second is - we have to think about our relationships and how they impact us. In a democracy where the people are sovereign, if we don't call for institutional change - if we don't call for a systemic awareness of how historic wrongs have current policy implications - I think we are complicit in the injustice."

Shrader said she would like to found other Ubuntu groups in Mississippi.

"My calling into the ministry wasn't anything I ever really wanted or sought," she said. "But now I can't envision living any other way. I never planned on staying in Mississippi. I was very confident I was going back to Florida after the fellowship ended. But I've really loved the ministry opportunities here, and I'm just leaving it in God's hands."