We Love Lucy: Mom celebrates 30th birthday with fundraiser for orphans in Ethiopia
LaReeca Rucker
The Clarion-Ledger
Before they even began dating, Tupelo residents Anna and Russ Polsgrove talked about their desire to adopt.
In 2008, several years after they wed, conversation turned to action. After reading blogs from families who had adopted children from Ethiopia, Anna Polsgrove felt a sense of urgency.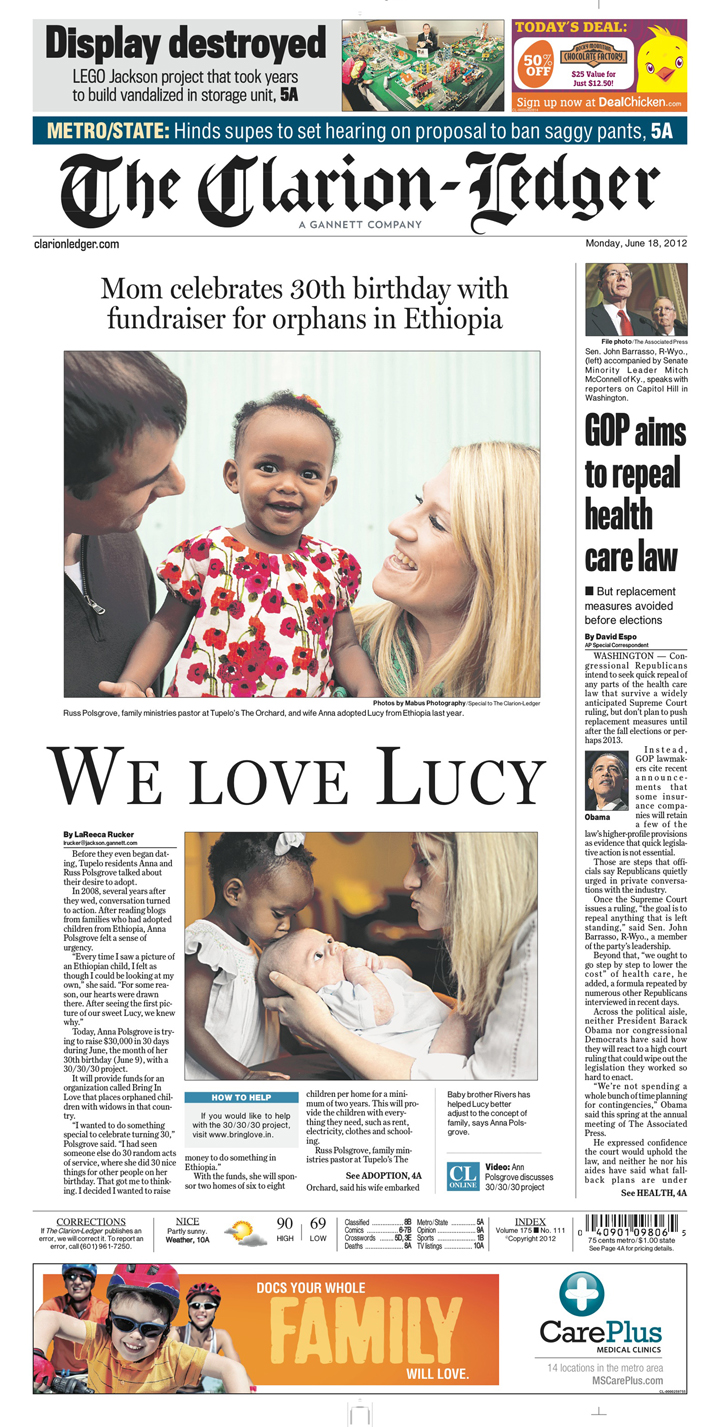 "Every time I saw a picture of an Ethiopian child, I felt as though I could be looking at my own," she said. "For some reason, our hearts were drawn there. After seeing the first picture of our sweet Lucy, we knew why."
Today, Anna Polsgrove is trying to raise $30,000 in 30 days during June, the month of her 30th birthday (June 9), with a 30/30/30 project.
It will provide funds for an organization called Bring In Love that places orphaned children with widows in that country.
"I wanted to do something special to celebrate turning 30," Polsgrove said. "I had seen someone else do 30 random acts of service, where she did 30 nice things for other people on her birthday. That got me to thinking. I decided I wanted to raise money to do something in Ethiopia."
With the funds, she will sponsor two homes of six to eight children per home for a minimum of two years. This will provide the children with everything they need, such as rent, electricity, clothes and schooling.
Russ Polsgrove, family ministries pastor at Tupelo's The Orchard, said his wife embarked on the 30/30/30 project because they realized adoption wasn't the only solution to the orphan crisis in Ethiopia.
"This way, we get to help people who are thinking of new solutions to some of the problems there," he said.
The Polsgroves received the first picture of Lucy, which appropriately means "bringer of light," in September 2010.
"She was 3 months old and the tiniest, cutest thing we had ever seen," Anna Polsgrove said.
In January 2011, the couple traveled to Ethiopia to meet Lucy for the first time. They stayed three weeks before returning home.
"Boarding the plane back home without her was one of the darkest days of my life," Anna Polsgrove said. "But, we knew we would return within a month or so to pick her up."
It was during this time that the couple found out they were pregnant. The meaning of family suddenly expanded.
Eventually, receiving travel clearance, the couple returned to Ethiopia.
On July 30, 2011, Lucy Samrawit was placed in their arms.
"Words cannot express what that day was like for us," Anna Polsgrove said.
On Aug. 4, they landed at Memphis International Airport and walked through the terminal to greet family and friends.
"It was on that day that I felt like our family was finally together," Anna Polsgrove said. "I was carrying both of my babies. Rivers was at 23 weeks in my womb, and I was finally holding my, by then, 13-month-old baby girl."
The Polsgroves have watched their daughter go through many changes since her arrival nearly a year ago.
"When we first came home, she was in a foreign place very different from where she had been the first year of her life," Anna Polsgrove said. "She didn't know us as parents, but as some couple who had taken her out of the only surroundings she had ever known.
"Russ and I worked really hard to show her that we were her primary caregivers and that we were her parents forever."
The birth of Rivers, in December, has been a plus for Lucy.
"She loves him, and in so many ways, having him has helped her really see us as a family unit," she said.
"In this past year, we have experienced gaining children through adoption and through giving birth. Our lives are forever changed by them, and thanks to Lucy we are now forever tied to another country we have grown to love."
Polsgrove hopes her 30/30/30 campaign will bring attention to the needs of some 5 million orphans in Ethiopia.
"Adoption is hard and, at times, gut-wrenching," she said. "It causes all involved to constantly self-evaluate and pour out to others. But at the same time, it is one of the most beautiful things I have ever encountered ...
"To see my child flourish and trust has been amazing. To see how she challenges all to love better has been overwhelming.
"I simply cannot imagine what our lives, and all who she has come in contact with, would be like had we not been chosen to parent her."
Russ said there may still be a stigma about adoption for some people, but not the Polsgroves.
"For us, it's been one of the greatest decisions we've ever made," he said. "We hope more people are encouraged to adopt. Even if they aren't, we hope some people are encouraged to participate in the good things that are happening in the world.
"We believe there's a calling on all our lives to use our gifts, talents, and resources to help other people in the world. When we create opportunities in situations where opportunities aren't as plentiful, it's a beautiful thing."
How to help
* If you would like to help with the 30/30/30 project, visit www.bringlove.in
* To learn more about Anna Polsgrove, her 30/30/30 project and how you can help, watch her video https://www.youtube.com/watch?v=qzfUWWp89fk