Wings of Song: Pocahontas native tours Ghana with renowned Fisk Jubilee Singers
LaReeca Rucker
The Clarion-Ledger
Overcome with emotion, tears streamed down her face as she stood in front of Elmina Castle. Built by the Portugese in 1482, the Ghana landmark once held thousands of Africans who were imprisoned in its dungeon and later sold as slaves.
And there she was, centuries later, standing in the courtyard where men and women had been exchanged as merchandise, belting out black spirituals that doubled as freedom codes - songs written years later by American slaves using the Underground Railroad to seek independence in free states.
Pocahontas native Jessica Williams, 21, was recorded live in West Africa last summer while performing as a member of the historic Fisk Jubilee Singers, a group of students who attend Fisk University in Nashville.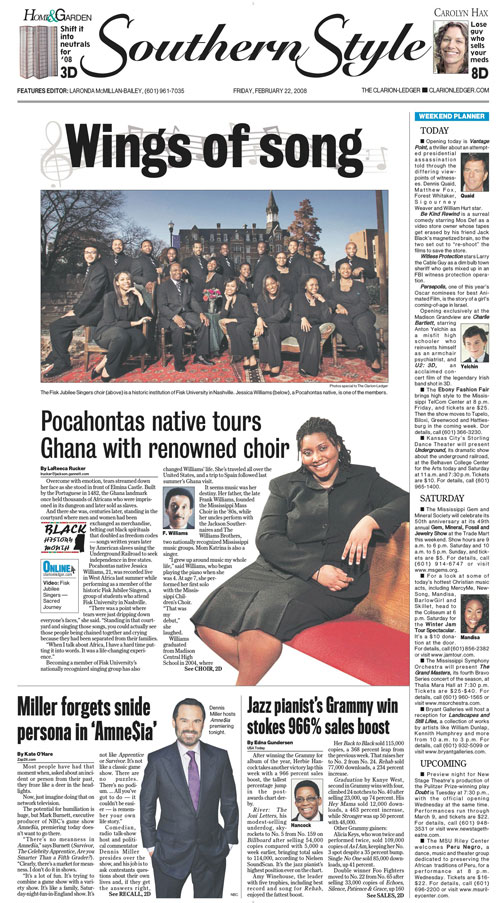 "There was a point where tears were just dripping down everyone's faces," she said. "Standing in that courtyard and singing those songs, you could actually see those people being chained together and crying because they had been separated from their families. When I talk about Africa, I have a hard time putting it into words. It was a life-changing experience."
Becoming a member of Fisk University's nationally recognized singing group has also changed Williams' life. She's traveled all over the United States, and a trip to Spain followed last summer's Ghana visit.
It seems music was her destiny. Her father, the late Frank Williams, founded the Mississippi Mass Choir in the 1980s, while her uncles perform with the Jackson Southernaires and The Williams Brothers, two nationally recognized Mississippi music groups. Mom Katrina is also a singer.
"I grew up around music my whole life," said Williams, who began playing the piano when she was 4. At age 7, she performed her first solo with the Mississippi Children's Choir.
Williams graduated from Madison Central High School in 2004, where she was a member of the Chamber Singers concert choir and performed at the school's annual madrigal production.
"I very much remember her. She is a character and liked to talk a lot," laughed Joanna Hunt, the Madison Central choral director. "She could sing in a variety of styles. She had a wonderful, rich alto voice and a great ear. She loved music, and I'm so proud that she is in the Fisk singers because they are quite a renowned group."
Williams fell in love with Fisk while touring colleges with her cousin their senior year of high school. It was the only school to which she applied.
Founded in 1866, the college was named after General B. Fisk, who worked to re-establish the first free schools for black and white children in the South. Originally called Fisk Freed Colored School, it was located in an old Army barracks hospital.
"They were running out of money, and Mr. George L. White heard some students singing," Williams said. "He decided to take these students, form a group, travel all over the United States and earn money for Fisk. He named them the Fisk Jubilee Singers."

The nine-member group originally sang classical music, but others took notice when they began performing African-American spirituals. Today, there are 16 members. Williams was selected as one her freshmen year. While many are music majors; others are studying business and preparing for medical school.

It's been more than a century since the group was founded, but the Jubilee Singers continue to perform spirituals. "Wade in the Water" is one of Williams' favorites.

"The song was sung among the slaves when they were escaping to freedom," she said. "They would sing 'wade in the water' as a signal. All the spirituals have those hidden meanings.
'Go Down Moses' is a song about the Israelites exodus from the Egyptians when they were enslaved. Moses was their leader. In the Underground Railroad, Harriet Tubman was the leader. They called her 'Moses.' So in the song, they are referring to the Bible and Tubman. It has a double-meaning."
Rich Boyd, executive director of the Tennessee Arts Commission, a state agency that funds arts, called the spirituals "masterpieces" and said the Jubilee Singers should be recognized and celebrated.
"The story of the spirituals and the Fisk Jubilee Singers offers a broad window into African-American and civil rights history," he said. "It's important that we remember the historical significance of this musical genre. Originating as folk songs of slave communities, the spirituals found second life in sophisticated choral arrangements before international audiences, then continued to inspire later styles of African-American sacred music. The Fisk Jubilee Singers played a major role in bringing these songs to the world."
This is Williams' last year with the group. The music education major with emphasis in operatic vocal performed her senior recital in November, singing pieces by Bach, Schumann and Puccini.
"All were in French, German and Italian," she said, "and I performed a couple of spirituals."

She'll graduate this May and is unsure what will happen next, but plans to return to Houston, Texas, where her mother and brother now live. While Williams dreams of being a back-up singer, she won't pursue a career as a solo artist. Education may be in the cards. She said she's enjoyed student teaching this semester at Hillsboro High School in Nashville.
Katrina Williams realized her daughter had a gift at age 3.
"There was a song she used to sing every day on the way to day care," Katrina said. "We played it over and over again, going and coming."
The song, "Hold up the Light" performed by the New York Restoration Choir, is about saving the world from darkness. And by age 7, Katrina realized Jessica's light was song.
"Even at that age, I saw the potential she had," she said. "And the thing about Jessica is she has always been humble like her dad. She would rather be in the background. But the Lord has really been pushing her out front.
"After that, it's been one thing after the other. We don't know what the Lord has in store for her, but we know she is being blessed."