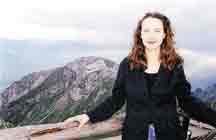 LaReeca Rucker is a features reporter covering youth and trends at The Clarion-Ledger, the state's largest newspaper.
As a member of the 2005 class of Journalism fellowships in Child and Family Policy, she participated in the program at the University of Maryland's Philip Merrill College of Journalism. Funded by the New York-based Foundation for Child Development, the fellowship aimed to deepen the understanding of how social policies and programs affect young lives.

In 2003, Rucker joined the staff of The Madison County Herald in Ridgeland, Miss. The Gannett-owned publication is a bureau of The Clarion-Ledger.

While taking three graduate-level English courses in semantics, Southern literature, and contemporary literature at the University of Mississippi, Rucker worked for The New Albany Gazette as a reporter, photographer and page designer from 1998-2003. She also edited the features section "Local Color" that was selected as the Best Weekly Lifestyles Page or Section in the state by the Mississippi Press Association in 2001 and 2002.

Rucker interned at WCBI Television's Tupelo bureau during the summer of 1996, and joined the staff of The Lee County Courier as a reporter, photographer and page designer in 1997.

Before graduating from the University of Mississippi that year with a triple major in print journalism, broadcast journalism and English, and having taken the required courses for Mississippi's alternate route teaching program, Rucker won third place in the feature writing category of the Southeast U.S. Society of Professional Journalists student competition.

In college, she was a member of the Society of Professional Journalists and the Radio and Television Newscasters Association.

She worked as a reporter for The Daily Mississippian and wrote for the Ole Miss yearbook. She was a radio reporter and anchor for WUMS 92.1, the campus radio station. And she worked as a videographer, alternate anchor, weather person and reporter for Channel 12 Newswatch, the campus television station.

She was also afforded trips to New Orleans and Los Angeles with RTNDA, where she met notable journalists like Peter Jennings, Carol Simpson, Sam Donaldson, Dee Dee Meyers and Bernard Shaw.

In 1999, Rucker spent a month photographing sites in Europe.

To date, she has won 44 journalism awards, primarily from the Mississippi Press Association for writing, photography and design.