'Along the Silk Road': Exhibit sheds light on Central Asia, mission work
LaReeca Rucker
The Clarion-Ledger
Beginning Sunday, the church will host the International Mission Board's "Along the Silk Road" interactive exhibit, designed to create awareness about the cultures of Central Asia and mission work conducted there.

The Silk Road is a network of routes that connected major trading centers in East Asia with those in the Middle East, Mediterranean and Europe. It became less significant when merchants began using sea routes, but the region is still home to a diverse population.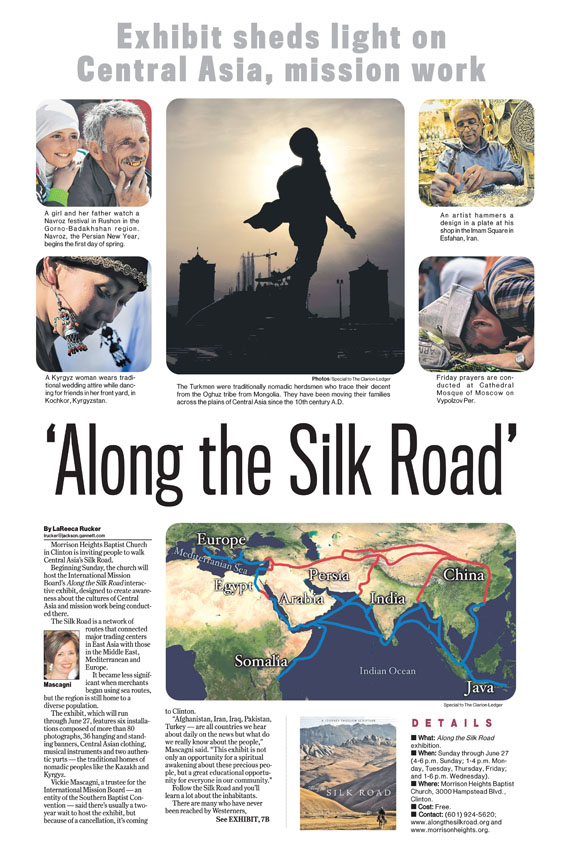 The exhibit, which will run through June 27, features six installations composed of more than 80 photographs, 36 hanging and standing banners, Central Asian clothing, musical instruments and two authentic yurts - the traditional homes of nomadic peoples like the Kazakh and Kyrgyz.

Vickie Mascagni, a trustee for the International Mission Board - an entity of the Southern Baptist Convention - said there's usually a two-year wait to host the exhibit, but because of a cancellation, it's coming to Clinton.

"Afghanistan, Iran, Iraq, Pakistan, Turkey - are all countries we hear about daily on the news but what do we really know about the people," Mascagni said. "This exhibit is not only an opportunity for a spiritual awakening about these precious people, but a great educational opportunity for everyone in our community."

Follow the Silk Road and you'll learn a lot about the inhabitants.

There are many who have never been reached by Westerners, Mascagni said.
"You find all kinds of pockets of different religions, but you see a lot of evidence of Christianity at points in Central Asia, too."
Mascagni, who has conducted mission work in Honduras, said she wants to increase awareness about international mission work.

"We do a lot of refugee work," she said. "There are often little earthquakes that may not make the news, yet for people of that particular area, they are just devastating. A lot of people in these mountainous regions are really a forgotten people.

"I hope those who attend the exhibit recognize that we have something in common with all people. We are simply trying to show Christ's compassion."

Mark Sandifer, Morrison Heights' missions pastor, said the International Mission Board has more than 5,000 missionaries worldwide. There are more than 500 "people groups" in Central Asia - or individuals, families and clans or tribes who share a language and an ethnic identity. Morrison Heights plans to adopt and support such a group. They hope the exhibit will make the selection easier.

"Hopefully, it will be our people group for three to five years," Sandifer said. "We welcome the people of Jackson and surrounding cities to come and see the display."

The exhibit is tied to a book project with the same name. The 172-page book, Along the Silk Road, contains photos and stories. An accompanying study guide can be downloaded from alongthesilkroad.org.

The website features video travel diaries and photo galleries of Christian photographers, videographers and writers. The exhibit was first installed at Eastside Baptist Church in Marietta, Ga., in 2008, and has been traveling around the country since. It was displayed in May at First Baptist Church of Brookhaven.

"It gives you a practical overview of the people, how they live, what a day is like with them through pictures that are either hung on the wall or suspended from the ceiling," said Jeff Doremus, associate pastor of First Baptist. "It shows how people live, the types of food they eat, what they do for fun and everyday life. It asks people to consider how God is working amongst them and to pray for them. Then it moves into another section and talks about the Muslim faith, and how it is predominant in the country."

Doremus said it was well-received.

"We had a number of folks who weren't part of our church who actually came because it was here," he said. "I think it caused them to really think a little more deeply about that area of the world. I think it personalized it for them that these folks are real and they have similar concerns, joys and excitements just like we do."